Related Links
American Kennel Club
Great Pyrenees Club of America

Euzkalzale Great Pyrenees Pyrpacker
More Information
Please Contact Us Via Email With Any Great Pyrenees Questions or Information Requsts.

pyrpacker@aol.com
or Info@pyrpacker.biz
Euzkalzale Great Pyrenees Breeder
Terry Denney-Combs
Hesperia, California
(760) 792-6757

Pyrenees Puppy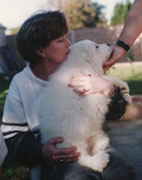 Glory Be! at 8 weeks old with Becky Graves.
CH Euzkalzale Glory Be!
She went on to achieve a Hall of Fame award from GPCA for production.

Two 4-week old Male Pyrenees Pups



-photo by M Cristillo
Great Pyrenees Breeder since 1971
Comments About
Website Function
Email Website Problems or Request Link Updates To The Webmaster.
webmaster@pyrpacker.biz

Generations of Champions and Specialty Winners
A small Great Pyrenees breeder producing few pups yearly, interested in producing healthy, long-lived, good structured and sound temperamented dogs from the beginning. In the last twenty years, our Pyrs have improved greatly overall. Pyrs are gentle with children and guardians of livestock. Ours have lovely bear-like heads. They are appropriately nicknamed "the Gentle Giants".

Written contract for health, temperament and show. Great Pyrenees puppies and young adults -- all home raised and well socialized -- to approved homes only. Champion stud service to approved bitches by private treaty. OFA-Hip/Knees/Heart, all available DNA testing and CERF/OFA-Eyes checked on all breeding stock.




Sumo


DD Grandkid arriving at his new home with Sherry


CH Euzkalzale Indian Summer





Linda meeting her little Valor
Intl AKC GCHS Euzkalzale Mont Valier CGCA,CGCU, FDC, TDI

-photo by Toyomi Tsumura


Hope giving Wendy love
Int AKC/UKC GCH Euzkalzale Apache's Future Hope TDI CGC

-photo by Lauren B. Photography




Ben


Expression captured by Jennifer Ruff


CH Euzkalzale Resolute at Midnight
Truly a GREAT Pyrenees!
All-Time AKC Rankings

| | |
| --- | --- |
| | Number 1 Great Pyrenees of All-Time Breed Competition defeating over 4,000 Pyrenees |
| | Number 3 Top Winning Great Pyrenees of All-Time, All Breed Competition defeating over 74,000 dogs |




Donegal


Expression captured by Carl Barnum


CH Euzkalzale Donegal's Lucky Charm



Intl., Am., Cn., & Mx. CH Euzkalzale Sundance Legend, HOF/HOF
"DD" (03-21-1990 to 03-30-2005)
Great Pyrenees Club of America Show Dog Hall of Fame


Great Pyrenees Club of America Outstanding Sire Hall of Fame

DD's Record for Most Great Pyrenees Specialty wins -- 14!
DD's Legacy Continues In These Young Great Pyrenees Dogs
Brody

Patton

Halsey and Wendy




Intl AKC GCHS Euzkalzale R Pyr Apache Sage


Intl AKC/UKC CH Euzkalzale Heart of a Soldier HOF RN TDI CGC VEVAVX CHIC


Intl AKC/UKC GCHS Euzkalzale Legacy of Hope HOF RN TDI CGC

GPCA 2015 National Select Dog
6 Years Top 20
60 Group Placements

Annie
Charley and Crystal
Nana


GCH Euzkalzale Apache Annie


Crystal Chapman's first special

2017 GPCA Top Puppy Invitational
2017 GPCA Top 20
GPCA Regional Speciality BOB 2017

Crystal Chapman
10 years old first show dog


GCH Euzkalzale Choo Choo Charley!

-photo by Zandria Bernaldo


Intl GCH Euzkalzale Which Witch? Not This Bitch! CGCA CGCU

Rio

Catch

Sky


GCH R Pyr Euzkalzale River Walk!


CH Euzkalzale Dream Catcher CHIC


CH Euzkalzale Apache Crystal Sky! HOF

2017 Top Producing Dam Award

Valor

Bobo

Choo Choo


Intl AKC GCHS Euzkalzale Mont Valier CGCA,CGCU, FDC, TDI

3 Years Top 20
Service Dog for Diabetic Owner
GPCA Gold Health Award

- photo by Sharon Carvalho




CH Euzkalzale R Pyrs Boanerges CHIC




CH Euzkalzale Polar Express CHIC

Ms Black
Louie
Jammies



Intl GCHS Euzkalzale Pama Kiss CGC

- photo by Sharon Carvalho


Euzkalzale Bayou Boogaloo Blues


AKC Puppy of Achievement

at 10 months old




GCHB Euzkalzale P.J. D'Chanterelle TDI CGC

Midnight Alaska
Hope
Apache



CH Euzkalzale Midnight Alaska! CHIC




Intl AKC/UKC GCH Euzkalzale Apache's Future Hope TDI CGC RSI




Intl AKC CH Euzkalzale Apache Fire! TDI H.O.P.E. Crisis Working Dog

Diva
Cream Puff
Shany



CH RPyr Euzkalzale Divinity


GCH Euzkalzale Cream Puff

Jennifer's first Show Dog Grand Champion
Shown going Select to his father's BOB "Elvis" GCHS R Pyr Jail House Rock!

-photo by Cook




CH Awesome Acres Shenanigans at Euzkalzale
Back to Top